The Santa Ynez Valley
~ The Santa Ynez Valley lies just two hours northwest of Los Angeles, and a scenic four-hour drive south of San Francisco.  This scenic valley is home to six distinct communities in California's Central Coast region.
With more than 100 wineries, incredible food, and special events, you will find Things to Do in the Santa Ynez Valley with friends, families and couples. Come here to sip, savor, and soak up all the valley has to offer. Treat yourself to an unforgettable experience.
1.  Santa Barbara Wine Country
The Santa Ynez Valley is famous for its wineries with its unique, transverse mountain range that pulls cool air from the Pacific Ocean. Our micro-climates and terrains result in one of the most diverse grape growing regions in the world. Explore the wineries and see the vineyards firsthand.
Wine Tours
Interested in seeing the Santa Ynez Valley with the knowledge, care and comfort of a guided tour? Sign up with a local tour company for a professionally guided tour in a limo, jeep, van, private sedan or even a bike.
2.  See Solvang, California's Little Denmark
No trip to the Santa Ynez Valley is complete without a visit to Solvang.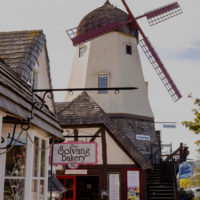 This quaint European village is famous for its Danish bakeries and architecture and filled with photo-ops. Accordingly, photo ops include a larger than life red clog or one of the town's many windmills.
Solvang has become known for its top-notch restaurants and food purveyors. Try a guided foodie tour with Eat This Shoot That for a curated experience that gives you a satisfying smorgasbord of Solvang eats.
3.  Culinary Cravings
There are so many great places to dine in the Santa Ynez Valley it can be hard to choose! Italian food aficionados will be pleased to find a handful of eateries serving up Italian favorites. Particularly try S.Y. Kitchen, Leonardo's, Trattoria Grappolo to name a few.
Additionally, lovers of traditional American cuisine are well catered for with top-notch sandwiches and classic American steaks.  Moreover, don't miss Hitching Post II for some Santa Maria style BBQ or try Coast Range in Solvang.
If you're looking for something with an eclectic vibe, the town of Los Alamos boasts innovative flavors (see PICO, Bell's, and Plenty on Bell).  The towns of Ballard and Los Olivos continue to offer romantic, candle-lit fine dining options (don't miss Los Olivos Wine Merchant Café).
4.  Immerse Yourself in Local Culture
Discover local history and lore at the Elverhøj Museum of History and Art and The Santa Ynez Valley Historical Museum. Then pop into Wildling Museum to appreciate works of art that draw inspiration from nature.
Find vintage and rare motorcycles at the Solvang Vintage Motorcycle Museum, be dazzled by fairy tales at the Hans Christian Anderson Museum. Feast your eyes on one of the west coast's largest petroliana collections at the Mendenhall Museum.
5.  Take in a Local Event
From food-driven to family friendly, the Santa Ynez Valley hosts a number of small events to bring everyone together. Regular, more intimate events include painting in the vineyard at various wineries, kid crafts at local museums, and live music in the evenings on heated patios.
During the Fall, visit from September through December for some special events that celebrate each town's unique history. Special events that return this fall will include the Solvang Danish Days (September), Los Olivos Day in the Country (October ), and Taste of the Santa Ynez Valley (end of September).
6.  Craft Beer
Why not sample some of the superb local craft beers? From sours to stouts, three major breweries in the area offer award winning brews sure to please a wide spectrum of beer connoisseurs.
Check out Barrelworks at Firestone Walker Brewing Company's Buellton Taproom, Figueroa Mountain Brewing Company in both Buellton and Los Olivos, and Solvang Brewing Company.
7.  Resort, Luxury and Budget Lodging
Certainly, try something different from your hotel stay. Santa Ynez Valley hotels offer a more intimate and distinctly local experience. Hotels here could be better described as inns, some of which have a unique Danish feel, some provide rich luxury, while another even provides a safari glamping experience. With over 30 unique lodging properties, the Valley has a price and style fit for everyone.
8.  Enjoy the Great Outdoors
Finally, there's no better way to clear your mind and relax than getting out and enjoying some of the local countryside. Figueroa Mountain is a great place to unwind and enjoy a picnic in the glorious California sunshine.
Or if you're feeling energetic, take a stroll through the adjacent Sedgwick Reserve by appointment, where volunteer staff guides you through the local terrain.
If a family picnic is what you have in mind, head over to Nojoqui Falls Park down Alisal Road.
The rural country roads that connect the wineries and communities of the Santa Ynez Valley are also ideal for a two-wheel adventure. Whether you're interested in doing an easy 5 miles with the family, 50 miles through rolling vineyards, or a multi-day tour of wine country, the Santa Ynez Valley and its less-trafficked roads make for a cyclist's nirvana. Everything you need can be found at Dr. J's Bicycle Shop, Santa Barbara Wine Country Cycling Tours, or Wheel Fun Rentals. 
9.  Find Artisan Treasures
With specialty shops located in almost every town, you're bound to discover a hidden treasure. Shops in the Santa Ynez Valley stock a range of local artisanal products like jewelry, glassware, handcrafted shoes, leather goods, porcelain, clothing and a range of traditional and contemporary crafts.
Some favorite local retailers include J. Woeste, Los Olivos General Store and Wildflower Women's Boutique in Los Olivos, Forage Florals in Santa Ynez, and First Street Leather in Solvang.
10.  Giddy Up-Horseback Riding
The Santa Ynez Valley offers hundreds of miles of trails to explore, from scenic vineyard-to-vineyard strolls. Or take to more challenging trails rewarded with fields of wildflowers or incredible sea-to-valley vistas.
What better way to explore the region's hillsides than via horseback? Local trail rides can be enjoyed via Vino Vaqueros, KAP Land & Cattle, SYV Horseback Rides and Alisal Guest Ranch for a uniquely enriching and rewarding experience. 
Now that you know what delights await you in the Santa Ynez Valley, you'll probably need more than a weekend to take it all in! With our doors always open, you can return time and time again.
Make the Santa Ynez Valley be that special place to you and yours for years to come.
---
---
Lodging
Browse our Santa Ynez Valley hotels to begin planning your trip today.
About VisitSYV.com: Visit Santa Ynez Valley provides listings of the best Santa Ynez wineries, best places to eat in Solvang, Santa Ynez hotels and inns, and things to do in Santa Ynez Valley. Visit the website at www.VisitSYV.com for complete travel and visitor services. "Like" the Facebook page for ideas on planning Santa Ynez vacations. Email info@VisitSYV.com for help planning your next vacation in the Santa Ynez Valley.