Discover the Santa Ynez Valley Wineries
Just two hours northwest of Los Angeles, and about four hours south of the San Francisco Bay Area, sits the Santa Ynez Valley – the heart of Santa Barbara County wine country, on California's Central Coast. Your wine country basecamp for exploring the 300 Santa Barbara County wineries.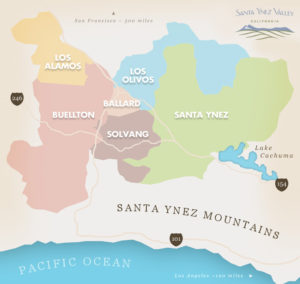 Santa Ynez Valley is home to six distinct towns each with their own culture, vibe and menu of experiences, while the greater Santa Barbara County wine region houses six American Viticultural Areas (AVAs). Blanketed with fertile vineyards and farms all fruitful, in part, due to the region's temperate weather, Santa Barbara County wine country offers year 'round getaway activities to suit all budgets and palates.
In Northern Santa Barbara County
You will find the second oldest appellation in the U.S., behind Napa. And to the south, the Santa Ynez Valley AVA, which contains a subset of four additional AVAs, each with their own unique grape farming personality and profile.
Starting in Lompoc, the Sta. Rita Hills AVA stretches east to Buellton, producing some of Santa Barbara County's most prized Chardonnay and Pinot Noir bottlings. Ballard Canyon AVA lies just beyond the Sta. Rita Hills AVA, and borders the newest of these areas, the Los Olivos District AVA. Happy Canyon of Santa Barbara AVA is on the eastern border of these AVAs, which range in grape-growing climate from cooler to slightly warmer as you travel west to east through this section of the wine region.
Santa Barbara County wine country also has hidden-gem agricultural pockets and of those, not to be overlooked, are the Los Alamos Valley vineyards, encircling the Old West-meets-modern-foodie town of Los Alamos, and the Santa Maria Bench, which rises inland from the Santa Maria Valley AVA.
Where the Magic Happens
Santa Barbara County wine production is concentrated in a few areas, with outlying winery facilities – and tasting experiences – dotting the entire County.
Lompoc has approximately 40 wineries mainly clustered in the city's Midtown section, as well as in the affectionately-named "Lompoc Wine Ghetto". Between Lompoc and the city of Buellton, estate vineyards and wineries nestled among the rolling Sta. Rita Hills, give way to Buellton's industrial winemaking core.
The Santa Ynez Valley towns of Los Alamos, Los Olivos, Buellton, Solvang and Santa Ynez, all boast wine tasting rooms, and traveling the short distances between each of these towns, as well as the sixth Santa Ynez Valley micro-burg of Ballard, affords guests with vineyard visits, pastoral estate tasting rooms with views for days, and entire "tasting trails", such as the Foxen Canyon Wine Trail: 14 wineries along a 30-mile stretch of Foxen Canyon Road, which links Los Olivos with yet another wine-making hub, Santa Maria.
"South County" Santa Barbara cities and towns of Goleta, Santa Barbara, Montecito, Summerland and Carpinteria, continue the wine-drenched trend with wineries and tasting rooms spilling down towards the ocean.
Just a Taste
About 9.5 million gallons of wine are produced annually, in Santa Barbara County. Tasting through the region's many varieties – the afore-mentioned Chardonnay and Pinot Noir, plus Syrah, Sauvignon Blanc, Cabernet Sauvignon, Grenache, Merlot, Pinot Gris, Viognier, Cabernet Franc, Sangiovese and Riesling, to name a few – can work up quite an appetite. Santa Barbara County wine country rises to the food and wine occasion, with singular cuisines and stand-out restaurants.
Internationally-famous Santa Maria oakwood BBQ, and more specifically, tri-tip, can be found throughout the County, as can French bistro fare done to the nines, wine countrified-Italian, rarified ramen, Danish pastries and delectable bake shops, destination burgers, and fresh-off-the-boat Santa Barbara seafood, such as the region's storied 'uni'.
Along the lines of "terroir" in wine, our chefs and food crafters pay particular attention to what's in season and what's locally-grown, utilizing local produce, beef, fish and seafood to tell their edible Santa Barbara wine country tales.
Visit the Santa Ynez Valley
Craving more? Santa Barbara County wine country features events of all sorts, so any time of the year is sure to entertain. Once here, multiple local wine tour companies are at the ready to plan your day of wine tasting, and to be your guides and drivers. Alternately, adventure always awaits if you feel up to exploring on your own. With so many miles of vineyards to cover, so many wines to taste and so much good food to be had, better plan to stay a while. The Santa Ynez Valley offers 30+ different lodging properties to complete your wine country vacation, all as diverse and distinct as our wines.
---
---
---
---
---
---
---
---
---
---
---
---
---
---
---
---
---
---
---
---
---
---
---
---
---
---
---