Nine Winemakers to Know – 
In the Santa Ynez Valley –
Written and photographed by Heather Daenitz of Craft & Cluster
With our unique transverse mountain ranges, mild climate and ideal soil, it's not surprising that the Santa Ynez Valley is home to many incredible vineyards and wineries. It is, in fact, one of the most diverse wine-growing regions in the world.
Here, we can grow a wide range of grape varieties. From classics like cabernet sauvignon, syrah and pinot noir, to less widely planted varieties such as grüner veltliner, counoise and tempranillo. Yet, the Santa Ynez Valley is increasingly known for another form of diversity; our higher than average number of women winemakers and winery owners. In fact, Santa Barbara County boasts more women winemakers per capita than most other regions in the world–nearly double the national average of 10%.
I had the privilege of talking with several of these women about their own winemaking practices during the last harvest season. Though their answers to this question were varied (as Wynne Solomon of Peake Ranch Vineyard says, "there are a thousand ways to skin a cat."), their answers to the question, "Why the Santa Ynez Valley?" were almost identical: The walls in this region are down, there isn't as much stodginess around trying new things and experimentation, and most importantly, the community is supportive.
Every one of the winemakers I spoke to mentioned how the support from the local wine community has helped them thrive here rather than feel stifled by tradition and competition.
As Tara Gomez of Camins 2 Dreams rightly pointed out, "As a winemaker, it's fun to be in this region because there's so much more you can play around with!" I hope, dear reader, to impart upon you how truly special this region is through these interviews. These winemakers are talented and care deeply about this community, and though we were only able to talk with a handful of them, I encourage you to make a point to visit each of the winemakers listed here. You'll be blown away!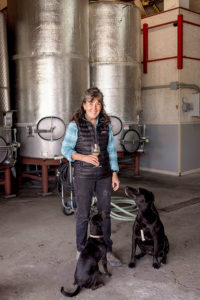 Karen got her start in the wine industry in 2001, working with and learning from local wine pioneer Norm Yost, then of Foley Estates. Three years later, she became assistant winemaker to Kathy Joseph of Fiddlehead Cellars. In 2007, Karen began making wine for Buttonwood Farm Winery, which she became familiar with during her early days with Foley. "What I love about Buttonwood is that it's not just a monocrop. We farm peaches and tomatoes and sheep too! It creates this sustainable ecosystem for farming. Anyone who has had a tomato straight from the vine knows how special that is."
It's that special quality of farm freshness and purity that Karen focuses on with her wine. "I have the luxury of being in the vineyard every day, so I can see how the weather and climate are going to affect the wine that I make. I'm not above making adjustments if needed, but I like to make pure wine." Another key goal of hers is to produce a wine that people can gather around and discuss. "The expectations of the wine world are strange to me; they can be so snobby. I believe that wine should be something you can afford to have every night!" Her wines are approachable, finely crafted and occasionally a little weird. "I make weird wines, I know," she says with a sly smile, "Some people like them, and some don't, but I kind of love that; I like knocking people off their rockers sometimes!"
Karen's Seagrape wines can be found at The Good Life and Los Olivos Wine Merchant & Cafe.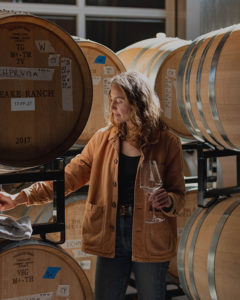 Wynne's story in wine begins in high school when a meeting with the winemaker of Martin Ray Winery piqued her interest. "The smell of the cellar, the feeling, everything about it brought me in." Growing up in Sonoma, she was, of course, surrounded by wine but never thought about a career in it until that meeting. Between her studies at Cal Poly, San Luis Obispo, she worked with Steve Dooly of Stephen Ross Cellars. "Steve taught me not only the practical methods of winemaking, but he also taught me how to think like a winemaker. He guided my journey and helped me fall in love with the Central Coast." Wynne found a community here, "Everyone is so supportive [in this industry], they will help you find the right opportunity and help you thrive." It was this small community in the form of Cambria Winery's winemaker Jill DelaRiva Russell who brought Wynne to the attention of John Wagner, owner of Peake Ranch Vineyard. At Peake, Wynne has had the opportunity to be intimately involved in the vineyard, which she walks and observes daily throughout the growing season. "The joy behind winemaking is the ability to learn a place and evolve with it each year. It's about finding the best expression of these vineyards and this place." Wynne is one of the most intuitive winemakers I know. She doesn't feel pulled by wine trends, which she says allows her to make wine classically and let them drive their own expressions. "The goal is to make wines that bring joy and intellectual stimulation, but that's the challenge: to make a wine approachable but also engaging to the consumer." In my opinion, she nails this delicate balance with all of her wines. Of course, the chardonnay and pinot noir are incredible, with the ageability of the chardonnay being especially impressive. And the cool climate conditions that the traditionally warm-climate varieties of grenache and syrah grow in adds a level of complexity and intrigue rarely found.
Clarissa Nagy
| Riverbench Vineyard & Winery & C Nagy Wines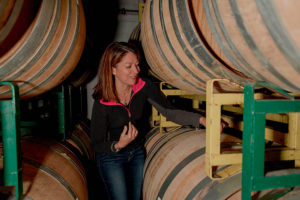 Clarissa Nagy wasn't planning on becoming a winemaker. Her first winery job as a lab tech at Edna Valley Vineyard in San Luis Obispo was intended to be a short-term job on a path to a career in the food industry. "Coming into the first vintage, I didn't have any expectations. I was sitting at the top of the barrel room filling a French oak barrel with free run pinot noir, and that's when I knew that this was for me." She loves how memory plays a role in one's experience of wine. "I found that I loved the sensory experience of wine. I would go to the grocery store and get gooseberries, lychees, spices, and herbs so I could learn what I was tasting and smelling in wine." This attention to sensory perceptions of wine has influenced her winemaking style over the years. "My goal is always to accentuate what I'm tasting in the vineyard. You find that it's impossible to control everything, so instead, you look at what nature has given us and find how to highlight it." Though her decisions in the cellar were more calculated early in her career, she says her familiarity with the vineyards she sources from allows her to experiment spontaneously and have fun. "Working with Riverbench for so long, I know what blocks can handle more oak and which can't." This is what drives her when she thinks about the folks who will ultimately enjoy the wine she makes. "Being able to accentuate the Central Coast, show what it is… you can pleasantly surprise people into liking [wines] they aren't typically drawn to." Between Riverbench and her own label, C Nagy Wines, Clarissa focuses on pinot noir, chardonnay, sparkling wine, syrah and sauvignon blanc.
Having grown up in the Santa Ynez Valley as it was just beginning to make an impression on the wine scene, Dana Volk has seen this region transform into what it is today. She started her career in wine after graduating from Cal Poly in 1996 and has an impressive career in the wine industry, working with such names as Edna Valley Vineyards, Kendall Jackson, Carmenet Winery, Bridlewood and Byron, before starting her own winery, Dana V. Wines. With a tasting room in Solvang, Dana is uniquely placed to introduce tourists to fine wine. "Most of these tourists have never done a wine tasting before," she laughs and adds, "they start out saying 'I don't like red wines,' but then they walk out with a $50 pinot!" It's fun for Dana to help turn these folks into wine consumers. "I found that I really like the education of it all–the wine that I'm making is driven by this." Understanding the journey most wine consumers take, Dana has a range of entry-level wines that are more approachable to the new consumer but also has a line of single-vineyard wines for those further along in their tastes. "I have wine club members who started out drinking late harvest viognier, who are now drinking my best cabernet sauvignon. It's really cool to be along for their journey!" Her wine is truly representative of the Santa Ynez Valley, showing its diversity and range in not only the grape varieties but in the differences microclimates can make on a wine.
Hailing from Bosnia, Samra Morris has quickly made her mark here in the Santa Ynez Valley. Her Bachelor's and Master's degrees from the University of Sarajevo, coupled with her experience working in vineyards and cellars in Napa Valley, have made her an invaluable winemaker for Alma Rosa. Her goal with her wines is to represent the Sta. Rita Hills and to show the terroir of each vineyard. "I love the saltiness of our terroir, and I want to show how great our region can be with beautiful acid-driven wines with slightly salty notes." The 2021 vintage marks the first year Alma Rosa will be making sparkling wine. "We have a certain block at our vineyard, El Jabali, that we've dedicated this year to sparkling wine. It's very exciting to me to be able to make sparkling wines." Alma Rosa is steeped in local history. Richard Sanford, a local legend and industry pioneer, founded the winery in 2005 with his wife, Thekla. "What he [Richard] did for our region is amazing," says Samra. She looks to Richard for his advice and to listen to his stories about the regions she's fallen in love with. "It's beautiful here!" She says, laughing, "We already make great wines here; it's my hope to help make this region even more recognizable." In this hope, Samra is succeeding. Her first harvest to glass vintage of 2020, though faced with unique challenges, was exciting. The wine released so far has been gorgeous chardonnays with character and pinots showing off the exceptional terroir of the Sta. Rita Hills. Full of a quiet passion, Samra is one to keep your eyes on. Taste and purchase her wines from Alma Rosa at their new tasting room in Solvang.
Sonja Magdevski
| Casa Dumetz Wines, Feminist Party, and Clementine Carter
Sonja's introduction to the wine world isn't typical of most winemakers. A journalist by training, her wine education was informal; gained on the job, through viticulture and enology courses at Allan Hancock College and via countless mentors in Santa Barbara Wine Country. "I wouldn't be here if it weren't for all the people who were willing to help me and answer my questions." Her approach to winemaking is both analytical and artistic; everything is done through systems and efficiency, but without sacrificing the heart behind the process. "We touch everything every day. Every time we open a tank, we know exactly what's happening based on smell and touch." This high-touch method allows her to understand right away when something needs to happen. "The wine will talk to you; you just have to learn how to listen to it," she says with a smile. Sonja also knows the importance of relationships with her growers. She approaches each vineyard source as a collaboration, working closely with the vineyard managers and owners to make the best wine possible. "My job is to make delicious wine every year, but not to make the same wine every year. Being so intimate with the vineyards I source from, I understand how the wine is going to react in a new style."
That philosophy of making the best wine, not the same wine, has sustained her well in her 17 years of winemaking. "Every vineyard I work with has a role and a purpose, but I'm very flexible to allow the grapes to tell me where they ultimately want to go. I know I want to make certain things, but maybe the grapes tell me something new." It's exciting to watch her balance these two concepts, all the while smelling and tasting and touching–yes, actually feeling the wines with her hands as they ferment.
As a writer, Sonja's tasting notes are poetic. As one customer so aptly stated, "you get the vibes of the wine rather than the usual, 'this tastes like these fruits' from her tasting notes." And each tasting experience is built with pleasure, exploration and theater in mind. Her wines are delicious, but it's the experience of storytelling and discovery that sets the experience apart from others. Taste and purchase Sonja's wine at her tasting room, Casa Dumetz, in Los Alamos.
Tara Gomez and Mireia Taribò met while working at J. Lohr Winery in Paso Robles, Tara as the lab manager and Mireia as a harvest intern. They developed a friendship after working together on Tara's first label, Kalawashaq' Wine Cellars, named for the village where her Chumash ancestors once lived. This friendship developed into love as they both traveled and continued working in wine, sometimes in Mireia's homeland of Spain, but ultimately ending up in the Sta. Rita Hills. The intention behind Camins 2 Dreams is to make wine they both enjoy and to share it with the community. "We make wine to be shared and enjoyed with friends and family," says Mireia. Tara adds, "But beyond that, it's important for us to align ourselves with vineyards that share the same practices and philosophies and preserve the land for the future." It's important to them both to let the vineyard speak for itself when making their decisions. They focus on natural winemaking to showcase each vineyard site and each variety for what it is. As Mireia puts it, "A wine when you drink it, takes you to Santa Barbara County." "We work with vineyards that are less than a mile apart but are like night and day, because of the soils, the orientations, microclimates," says Tara.
Tara and Mireia practice a method of yeast culturing called pied de cuve, which is essentially the wine equivalent of making your own sourdough starter. "We take the time to separate our samples from each vineyard," says Tara. This allows the native yeast of a vineyard site to grow and populate in relative isolation so that by the time the fruit has been harvested, they need only add it to the corresponding fermentor to kick off fermentation. To me, this is the height of minimal intervention winemaking. "It's not like it's bad to add things like commercial yeast or water," Tara adds, "but we don't do that because they will pull away the truth of the grape, the vineyard and site." Taste and purchase Camins 2 Dreams at their tasting room in Lompoc.
For New Zealand-born Angela Osborne, what was originally supposed to be a three month internship turned into a 19-year love affair with wine. It was not just any wine, but rather the elegance of grenache that pulled her away from her original ambition of being a filmmaker and enticed her to pursue a career as a winemaker. Her first experience with what she describes as the "grace" of grenache was when the winemaker she was working for that first fateful vintage took her to Unti Vineyards. "It was just a pivotal moment; I realized then and there that I didn't want to just make wine; I wanted to make that wine."
The wine shop she worked for while attending film school didn't have any local grenache, and all the GSM (grenache, syrah, and mourvèdre) blends they carried from Australia were far cries from what she would eventually come to love about grenache. "They were more of the high octane-Australian style of the early 2000s," she says, "but that wine [at Unti] was the most balanced expression of grenache I'd ever had, but it erred ever so slightly on being more feminine."
Angela's journey in wine eventually brought her to the Central Coast, where she finds she can most closely make the graceful and delicate grenache she fell in love with all those years ago. "Anything delicate has to be made delicately. It's my body doing the work, so I do it gently." She practices a more holistic approach to winemaking, allowing nature to guide the process and focusing on representing the different clones of grenache well. "Natural winemaking has a pretty misunderstood meaning these days, but I don't know what other way to describe it," she says with a shrug.
When asked if focusing solely on grenache limits her, her response is simple and to the point, "No, it allows me to learn more about the clones and vineyard specific characteristics." Angela makes around 14 different grenache-based wines, including a Blanc de Noirs sparkling wine of grenache made in the traditional method. You can taste and purchase her wine at her tasting room in Los Alamos.
---
---
Santa Barbara County Women Winemakers
---
---
Want to read more about Santa Ynez Valley and Santa Barbara County winemakers, restaurateurs, movers and shakers? Check out the complete 2022 issue of the
Santa Ynez Valley Destination Guide.
About the Author:
Heather Daenitz is the owner of Craft & Cluster, a photography & marketing consulting company that serves wine and food brands in the Santa Ynez Valley. Her work has been featured in notable wine & food publications such as Wine Enthusiast, Edible San Luis Obispo, and the Santa Ynez Valley Destination Guide. Her goal is to help small wine brands, particularly those owned and operated by women, BIPOC, and the LGBTQ+ community, reach a wider audience. When she isn't photographing wineries or helping brands with their social media marketing, Heather can be found gardening and sipping beer in her backyard with her two dogs, three chickens, and husband.  Visit her online at www.craftandcluster.com
and on Instagram @craftandcluster.
---