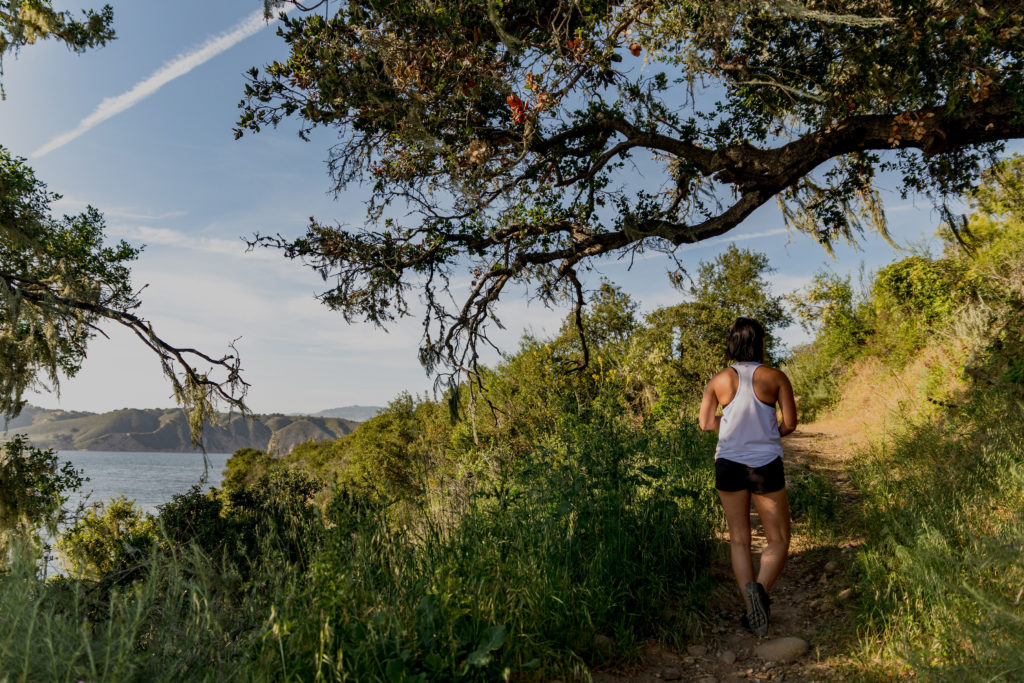 We're all looking for a way to get out, without joining a crowd. The Santa Ynez Valley has never been an ordinary wine country destination, and its abundance of outdoor recreation and amenities are a key reason why. 
Set along California's Central Coast, with the San Rafael Mountains to the north and the Santa Ynez Mountains to the south, rests a natural playground for hikers, bikers, horseback riders, outdoor adventurists, and more. And on a given weekday, those landscapes become all the more tranquil.
Entering the valley and catching the first glimpse of Cachuma Lake sparkling under the summer sun or of the region's rolling hills, dotted with California live oaks and painted with acres of lush vineyards, offers a much-needed breath of fresh air. A quick excursion to the 80-foot waterfall at Nojoqui Falls Park or the panoramic views of the Pacific Ocean from Gaviota Peak or Figueroa Mountain provides a breathtaking shot of energy.
Increasingly, the popularity of the valley's natural outdoor assets has bolstered the region's reputation as a world-class wine and culinary destination. Visitors want to explore the outdoors, appreciate a destination from a new or different perspective,  or experience something that they might not be able to at home, and the Santa Ynez Valley provides many opportunities to do just that.
Here are just a few of some of the best ways to get outdoors in the Santa Ynez Valley:
Cachuma Lake: A stroll along the shores of Cachuma Lake on the Tequepis Trail, is often greeted with native bald eagles, ospreys, and hawks soaring above. The lake is also popular for fishing, boating, and ample hiking and mountain bike paths.
A playground for hikers: The Santa Ynez Valley offers hundreds of miles of trails to explore, from scenic vineyard-to-vineyard strolls, to more challenging hikes rewarded with fields of wildflowers or incredible sea-to-valley vistas. There are so many to choose from, but the easy hike to Nojoqui Falls is always popular for families. And more challenging hikes to Gaviota Peak or to the top of Grass Mountain offer incredible scenic payoffs.
Vineyards by horseback: Exploring the vineyards is a quintessential Santa Ynez Valley experience. But with a vineyard horseback ride a connection between human and animal is made, creating a deeper and enriching moment. Estelle Ranch and Vineyards Ride & Wine tour from Vino Vaqueros or a KAP Land & Cattle tour of the vineyards of Fess Parker offers an enriching and rewarding experience.
Santa Ynez Valley by two wheels: The rural country roads that connect the wineries and communities of the Santa Ynez Valley are also ideal for a two-wheel adventure. Whether you're interested in doing an easy 5 miles with the family, 50 miles through rolling vineyards, or a multi-day tour of wine country, the Santa Ynez Valley and its less-trafficked roads make for a cyclist's nirvana. Everything you need can be found at Dr. J's Bicycle Shop, Santa Barbara Wine Country Cycling Tours, or Wheel Fun Rentals.

An electric experience: There's a new way to see Solvang USA in all its Danish glory, and that's from the comfort of an open air vehicle. The eMoke is an all-electric vehicle that boasts zero emissions, chic styling, and a range of eye-catching colors. Trust us, it's an Instagrammable ride. With its open-air body styling, the eMoke offers great sightseeing capabilities and is quickly becoming one of the most sought-after transport experiences available in Solvang.
Ohm away from home: Vineyard Yoga SYV connects yoga enthusiasts with the natural world through its yoga classes that take place in the serenity and solitude of local vineyards, followed by wine tasting.
The outdoor wine tasting experience: With more than 100 wineries, many with expansive grounds, outside seating, and room to roam, wine-tasting is an outdoor activity in the Santa Ynez Valley, too.
The Santa Ynez Valley's healthy, outdoor lifestyle seems particularly fitting at a time when getting outside and into open space has never felt more important for our physical and mental wellbeing. There's something calming, refreshing, and reinvigorating about seeing the Pacific Ocean from the top of Gaviota Peak, hiking a trail that passes by an endless field of California wildflowers, or just walking through a rolling vineyard, and this is the perfect place to do all of the above and more.
Start planning your outdoor adventure at visitsyv.com, where you can research events and attractions, book lodging and activities, and create a custom travel itinerary.
About VisitSYV.com: Visit Santa Ynez Valley provides listings of the best Santa Ynez wineries, best places to eat in Solvang, Santa Ynez hotels and inns, and things to do in Santa Ynez Valley. Visit the website at www.VisitSYV.com for complete travel and visitor services. "Like" the Facebook page for ideas on planning Santa Ynez vacations. Email info@VisitSYV.com for help planning your next vacation in the Santa Ynez Valley.