What's Brewing in the Santa Ynez Valley –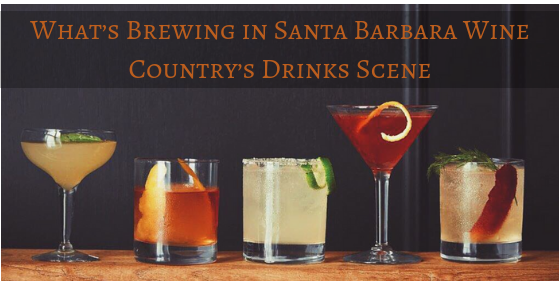 Wine and Halloween go hand-in-hand, right? But if you're looking for something craftier for the harvest season holidays – haunted, or otherwise – the Santa Ynez Valley also boasts other libations. A quick Los Angeles getaway (we're just two hours north) or a weekend jaunt south of San Francisco, the Santa Ynez Valley's six wine-drenched towns of Ballard, Buellton, Los Alamos, Los Olivos, Santa Ynez, and Solvang, offer a variety of thirst-quenching experiences. And although these might speak to the 21-and-over set, activities for all ages may easily be ordered as a "back". Here, you'll find cocktails, beer and wine to suit nearly all tastes.
One Valley. Six Towns. Something for Everyone.
---
---
So visit our vineyards, hike our hills, dine in wine country, belly up to the bar…and get a room. With this many options for indulging, the Santa Ynez Valley is so much more than just a day trip.
Buellton
Cemented in Highway 101 road trip history, industrious Buellton businesses are still accommodating weary travelers in need of a little refreshment. At Firestone Walker Brewing Company's Buellton Taproom & Barrelworks, suds are offered up to lucky locals and visitors as limited releases, liquid collaborations, and beer-world famous wild ales, while the on-site Taproom Restaurant provides nourishment in the form of beer-braised short rib and other gastro-pub fare.
View this post on Instagram
On the aptly-named "Industrial Way", Figueroa Mountain Brewing Co.'s Buellton Taproom, the mothership for the California Central Coast-based craft brewery. Here displays a dizzying list of draft beers; accompanying eats from The Kitchen, including kid-friendly bites; and an outdoor beer garden with distractions for the minis.
Next door, at Santa Barbara County's first distillery since prohibition, Ascendant Spirits offers tours and tastings at their facility where whiskeys, vodkas and gins spring to life.
Just up the street, DorWood Distillery handcrafts small-batch Vodka, Malt Whiskey, Gin and Limoncello, featuring a lounge-like area for tasting experiences.
View this post on Instagram
Nightcaps don't get any better than those had at hotels, and at the Sideways Inn's own Sideways Lounge, after-dinner / before-bed Lavender Lemondrops come crafted with care, alongside a selection of local beers and wines. The bar's well-appointed interior spills out to open-air seating areas and an adjacent fire pit, the perfect setting to ease you into your overnight, outdoor adventure at adjoining lodging property, Flying Flags RV Resort & Campground. Additional, modern hotel mixology may be found at the Santa Ynez Valley Marriott's 555 Lounge & Bar, which also features an expansive, fire-pitted outdoor area for cozying up with those Cosmos.
Solvang
When you think "Viking", does beer come to mind? If you're in Solvang, it should. Solvang Brewing Company's first taproom, co-founded by a fourth-generation, Solvang-born Danish descendant, serves up proprietary ales only available within close proximity to the Santa Ynez Valley.
"Solvang Brew Co." also holds a full bar, outdoor seating areas beneath the building's famous windmill, and a kitchen turning out hearty pub grub.
View this post on Instagram
Home-brew aficionados and DIY'ers frequent home brewing boutique, Valley Brewers, which comes complete with a speakeasy craft beer bar, "The Backroom", accessed through a "bookshelf" door. The Good Life, "a craft beer & wine cellar", pours a deliberate list of local and Central Coast wines, but also surprises with an impressive Californian beer selection, plus a few Danish imports for good "skål".
The Landsby hotel's Lobby Lounge beckons tipplers with house-made shrubs, revolving cocktail specials, and a daily Happy Hour favorited by locals in-the-know. Hill Haven Provisions, the restaurant/wine, and cocktail bar combo tucked away in Solvang's Atterdag Square, sports one of the Santa Ynez Valley's top mixologists and a curated drinks list to match. The bar at Hotel Corque's Craft house at the Corque proves a particularly worthy spot to lounge, with a sleek cocktail menu and precise listing of wine and beer.
In the tiny, tropical oasis of High Roller Tiki Lounge, you'll find thoughtfully-made tiki "wine-tails" served with a wealth of tiki history, knowledge and atmosphere. Custom-made, collectible tiki mugs cradle tiki drinks with nods to the bar's Danish location, such as the "Solvang Siren", "Bloody Viking" and the "Suffering Scandinavian".
View this post on Instagram
Santa Ynez
One of Santa Barbara County's premier drinks menus is housed at S.Y. Kitchen, where barkeeps stir up seasonal, market-fresh cocktails like the "Slow Drip Old Fashioned" with house-made bitters; "Barrel Aged Vieux Carré", appropriately including absinthe; and the mescal-based "El Viejo", with gusano powder. Get some play-time with that drink at one – or all five – of the Chumash Casino Resort's bars and lounges, from the mid-casino floor "Center Bar"; to the chill Hotel Lobby Bar; to the high-stakes, premium spirits High Limit Bar; to the laid-back, poolside rooftop bar; to the Lounge at the Resort's AAA Four Diamond Award-winning Willows restaurant.
View this post on Instagram
Los Olivos
Los Olivos' über-luxe Fess Parker Wine Country Inn sports The Bear and Star restaurant and bar, where "refined ranch" cuisine also comes in fluid form, with ranch-to-glass cocktails served in an equally refined hardwood and leather-bound setting. Or try the Auberge Resorts, The Inn at Mattei's Tavern, for a one of a kind experience.
View this post on Instagram
At Figueroa Mountain Brewing Co.'s Los Olivos' "The Cottage", the craft brewery's core beers are on tap and ready "to go" in bottles. Add ample outdoor areas, a game room, live entertainment and rotating food truck appearances, and your Los Olivos visit is pretty much planned.
Los Alamos
Whiskey rules at the 1880 Union Saloon, a true bar fixture in Los Alamos' Old West history. The once-stagecoach stop's cocktail menu is divided into two, "Whiskey" and "Non-Whiskey", with the 1880's takes on classic drinks like the Sazerac ("New Orleans signature primed by a St. George Absinthe rinse, with Sazerac Rye Whiskey, organic sugar, Peychaud's Bitters, smoked orange oils"), as well as Instagram-friendly pours like "The Sisco Kid" ("Monte Alban Mezcal, Green Chartreuse, pineapple-jalapeño shrub, fresh-pressed lime, smoked Maldon salt"). Beer, wine and the Central Coast's famous tri-tip are also on the menu, along with other cowboy-appropriate delicacies like chicharrones.
View this post on Instagram
Just down the main "strip" of Bell Street, PICO at the Los Alamos General Store checks all the boxes with a serious culinary-cred chef, an award-winning restaurant wine list, a 2,000-bottle wine shop, and a so-simple-it's-genius, streamlined cocktail menu with drinks like their "Gin & Juice" (Dogwood Union Gin, lime juice, passion fruit, caraway simple), and the secretive "Chef's Noble Manhattan" (Medley Bros. Bourbon, Amaro, chef's secret concoction).
Preserved in mid-century time, the iconic Skyview Los Alamos motel's décor and finishings overhaul included a hip re-do of the property's on-site, hilltop restaurant and bar, "Norman" – which opens to a scenester pool deck and views of the hotel's own vineyard, sloping down from Skyview's perch above Highway 101. Norman's cocktail menu sections include brunch-ready "Bubbles" (e.g., the "Sunrise", made with Root Elixirs Strawberry-Lavender, lemon, champagne); "Refresh", with a standout sipper in "Pineapple Express" (pineapple rum, Damoiseau rhum agricole, lime, sugar, CBD oil); "Garden" (like the "Sweet Pea V & T", with sweet pea-infused vodka, Fever-Tree Tonic, citrus); and "Classica" (bonjour, "French 75").
View this post on Instagram
Experience fall in the Santa Ynez Valley. Our myriad of accommodations, personality-filled haunts – and clever craft cocktails – will warm your heart and soul, and fuel your wine country vacation memories. Book now, for your most spirited season, yet.
View this post on Instagram
---
About Visit Santa Ynez Valley: Visit Santa Ynez Valley provides listings of the best places to eat in Solvang, best Santa Ynez wineries, and lists things to do in Santa Ynez Valley. Visit the website at https://www.visitsyv.com for complete visitor services. "Like" the Facebook page for ideas on planning Santa Ynez vacations.
About VisitSYV.com: Visit Santa Ynez Valley provides listings of the best Santa Ynez wineries, best places to eat in Solvang, Santa Ynez hotels and inns, and things to do in Santa Ynez Valley. Visit the website at www.VisitSYV.com for complete travel and visitor services. "Like" the Facebook page for ideas on planning Santa Ynez vacations. Email info@VisitSYV.com for help planning your next vacation in the Santa Ynez Valley.