Santa Ynez Valley –
Santa Barbara Wine Country, Known for Excellent Wines –
This region is one of the world's premiere growing regions for Pinot Noir and Chardonnay as well as many other varietals. That's why it's perfect for sparkling wine.
This celebratory drink is known by many names: Champagne, Bubbly, Sparkling Wine, Champers, Prosecco, Cava and Bubbles. Santa Ynez Valley's "Champagne" is also delicious…and it's local!
California Sparkling Wine
California Sparkling Wine can't be called Champagne — it's not from the Champagne region of France — but most of the sparkling wine in Santa Ynez Valley is made in the same methode traditionelle, or method champenoise, used in the Champagne region. There are more than 30 producers of Sparkling Wine in Buellton, Los Olivos, Santa Ynez, Solvang and Sta. Rita Hills. Even wineries without tasting rooms are getting into the bubbles business! And these online-only producers are from some of the county's highest-rated winemakers.
Sparkling Wine is extremely labor-intensive to make, so some wineries only offer their bubbles part of the year, and some make them only for wine club members. But most wineries will pour you a taste of their bubbles if not sold out, so don't be shy; just ask!
Get the Santa Barbara Sparkling Wine Map and follow the trail yourself. You can also find the Central Coast Sparkling Wine Map at the wineries shown on the map.
---
---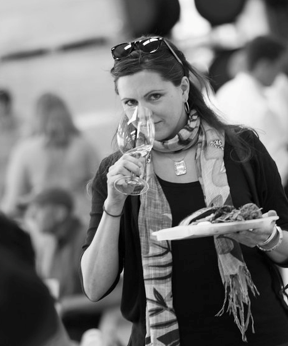 About the Author: Liz Dodder Hansen is a drinker, eater and traveler. She lives on California's Central Coast and has eaten 5 kinds of foie gras in one day. She's also a food & wine blogger, writer, photographer, recipe developer, web designer, social media maven and Certified Specialist of Wine (CSW). She's written for company Presidents, wine country magazines and a Google blog (Consumer Packaged Goods). She is also totally obsessed with local Bubbles. Her website Cali Coast Wine Country is all about California's Central Coast: all the food, wineries, restaurants, events and fun things to do from Paso Robles, Avila Beach and San Luis Obispo on down to Santa Barbara Wine Country.
---
---
Read Additional Blog Posts
---
About VisitSYV.com: Visit Santa Ynez Valley provides listings of the best Santa Ynez wineries, best places to eat in Solvang, Santa Ynez hotels and inns, and things to do in Santa Ynez Valley. Visit the website at www.VisitSYV.com for complete travel and visitor services. "Like" the Facebook page for ideas on planning Santa Ynez vacations. Email info@VisitSYV.com for help planning your next vacation in the Santa Ynez Valley.