Destination Weddings –
Wedding bells might be ringing for you and your soon-to-be life partner if you visited us for Valentine's Day or a romantic weekend getaway in Santa Ynez. Visit Santa Ynez Valley extends our congratulations and best wishes for many happy years together. Now that you're engaged, there are two crucial questions to answer: Where will the wedding be held? And where will you go for your honeymoon? May we suggest you consider the charming towns of Ballard, Buellton, Los Alamos, Los Olivos, Santa Ynez and Solvang for your wedding, honeymoon, or both?
Romantic Honeymoon
Santa Ynez Valley is the best location for a romantic honeymoon. Step back in time or out in nature, stroll through our charming shops, and just enjoy spending your first days together as a married couple. Nothing gets the romantic juices flowing better than a little wine, so you'll want to check out our many local wineries and wine tasting rooms. Take your pick, or sign up with a wine tour company that will handle all the arrangements and even provide a scrumptious lunch:
Stagecoach Company Wine Tours: Locally owned and operated, they'll pick you up in the Santa Ynez area, Solvang, Los Olivos, or Buellton and whisk you into a fun-filled day. Check out the popular "Wine Lovers Tour," which focuses on more boutique style wineries. Member of TripAdvisor Hall of Fame and Certificate of Excellence recipient six years in a row.
Los Alamos Limousine and Wine Tours: Provides limousine service by the hour, or you can choose an all-inclusive tour which visits three premium wineries and includes a wonderful lunch from Panino. All tours are custom-designed, and can pick you up at your hotel, vacation rental, or wherever you like.
Breakaway Tours & Event Planning: Founded in 1995, provides door-to-door service from your local lodging or Airbnb. Their picnic lunches are unmatched and enjoyed in a scenic winery setting. Try the signature "Deliciously Fun Wine Education," which can be tailored to fit your interest and level of wine knowledge.
If your tastes tend more toward the beer end of the spectrum, Santa Ynez Valley is home to many great craft breweries. Print out our SYV Craft Beer Trail Map and start planning your trip. 
You might not want to spend your entire honeymoon in Santa Ynez Valley drinking wine or beer, but it's a great start. Wrap it around a romantic hot air balloon ride, and enjoy the light prevailing winds as you gently soar over vineyards, breath-taking scenery, and beautiful ranches. You might even catch a glimpse of Michael Jackson's Neverland Ranch! Explore on horseback with a guided trail ride, or get up close and personal with a Segway tour, the best way to see Solvang and the Santa Ynez Valley.
After an exhilarating day of exploration, indulge yourself in a well-deserved spa break. Find peace, serenity and relaxation with spa and wellness services in the Santa Ynez Valley. Our local spas will rejuvenate your senses with a wide range of services, including aromatherapy, Swedish massage and hot stone therapy.
Then it's time to relax in one of our romantic hotels in Santa Ynez Valley, or one of our cozy bed and breakfasts. Many have special rooms, packages, and treats to up the romance for the newly-married. Check out quaint accommodations at places like the Mirabelle Inn and Restaurant, a newly remodeled, charming 12-room boutique hotel offering first class service. Dine at their First & Oak restaurant, where star Chef Steven Snook creates California eclectic fare, emphasizing seasonal and organic ingredients.
We're here to make your honeymoon in the Santa Ynez Valley romantic and fun. Congratulations!
Plan a Destination Wedding in the Santa Ynez Valley
If you've just gotten engaged and are beginning to think about where to hold your wedding celebration, the Santa Ynez Valley is the perfect location for a destination wedding. We've got all the attractions, accommodations, and event services to help you plan the perfect day.
Numerous area hotels, wineries and tasting rooms offer facilities for special event group rentals. Picture your guests gathering in a scenic vineyard like the Fess Parker Winery & Vineyard, in the mountains, or even western-style on a beautiful ranch for the occasion. You could hold your wedding at a historical church or a California mission, or even have a Danish wedding at the Elverhoj.
Your guests will love the choice of accommodations from The Landsby, a stunning 41-room boutique hotel in Solvang, to Hotel Corque, Solvang's premier boutique hotel. And there are plenty of activities, like wine tasting, to make it worth the trip.
We have everything you need to help with all facets of wedding planning. The team at Rani Hoover Inspired Weddings & Events can customize a package tailored to suit your wedding needs and provide start-to-finish management. Our Santa Ynez Valley Resident Photographers and Videographers can capture the romantic splendor of your day. Complete Weddings and Events offers DJ services and photo booth rental. You'll find delicious cuisine available at most event locations or from local caterers. And your guests can travel in style with our many limousine services.
Romance is done just right in the Santa Ynez Valley. Whether you're planning a wedding or honeymoon, make sure you go to VisitSYV.com first for listings of Santa Ynez hotels and Santa Ynez Valley restaurants. You can also find a complete listing of things to do in Santa Ynez Valley. We are thrilled to share the romantic splendor of the Santa Ynez Valley with you and your loved ones.
Wedding Congratulations from Visit Santa Ynez Valley!
---
---
About Visit Santa Ynez Valley: Visit Santa Ynez Valley provides listings of the best places to eat in Solvang, best Santa Ynez wineries, and lists things to do in Santa Ynez Valley. Visit the website at https://www.visitsyv.com for complete visitor services. "Like" the Facebook page for ideas on planning Santa Ynez vacations. Call 805-450-8841 or email info@VisitSYV.com to arrange a wedding or romantic honeymoon in the Santa Ynez Valley.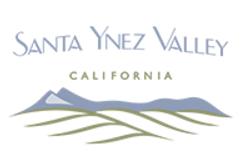 Christmas in the Santa Ynez Valley
About VisitSYV.com: Visit Santa Ynez Valley provides listings of the best Santa Ynez wineries, best places to eat in Solvang, Santa Ynez hotels and inns, and things to do in Santa Ynez Valley. Visit the website at www.VisitSYV.com for complete travel and visitor services. "Like" the Facebook page for ideas on planning Santa Ynez vacations. Email info@VisitSYV.com for help planning your next vacation in the Santa Ynez Valley.